Custom Draperies: Popular Header Styles for a Finished Look
September 20, 2017
When designing custom draperies for their homes, many people's sole focus revolves around the fabric. They view it as the single most important element of style. And while the pattern, color, and texture of your drapery fabric play a huge role in defining style, the header does too. In fact, the header design you choose is a major aspect of style. It should fit in with the look you want for your space while also standing out with elegance and sophistication. Because the tops of your draperies really pull the whole look together, you shouldn't gloss over this choice. Check out the three most popular headers styles and how they shape the overall effect of your custom draperies.
Pleats
The classic look of pleats allows you to showcase the gorgeous fabric of your custom draperies. Not only that, but your hardware selections are put on display to coordinate and create a custom look throughout your whole room. Typically held to the drapery rod with rings, pleats look beautifully tailored and exquisite! Pinch Pleats, Parisian Pleats (also called Tack Top), and Box Pleats are among our clients most favorite choices.
Ripplefold Finishing
Full of contemporary appeal and incredible volume, ripplefold finishing adds flow and harmony to your space. This unique header style features undulating folds that bring dramatic style to your custom draperies–and your whole home. If you love the ripplefold look, you might also love our line of Luminette Privacy Sheers. Offering the phenomenal combination of drapery styling and window-shade function, they're a popular choice among many of our clients who come seeking the beauty of ripples.
Rod Pockets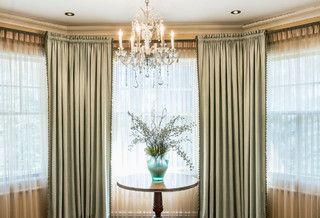 The rod pocket header style is an elegant, time-honored tradition. With the rod inserted through the drapery fabric, this style can feature gathers of fabric above the rod for embellishment, or it can simply allow your custom draperies to hang below. Adding tiebacks or holdbacks allows you to coordinate your design and emphasize the gathers of fabric. And while the rod won't show, you can customize the finials of the drapery hardware for a polished look.
Header Styles for Custom Draperies: The Choice Is Yours
Adding a meticulous finish and helping your space feel put-together, the header style you choose for your custom draperies is as important as your fabric selection. Pleats, ripplefold finishing, and rod pockets each define the style of your draperies in a different way. For an additional layer of design, you can also choose a top treatment for your windows. Whatever elements of design you're looking for to dress your windows, we can help. Our expert consultants will listen to your style preferences and share advice along with inspiration to help you create a stylish look you'll adore. Stop into one of our showroom locations. Or, contact our team at Arizona Blinds, Shutters, & Drapery for a free shop-at-home experience.